Kumara Parvatha (Pushpagiri):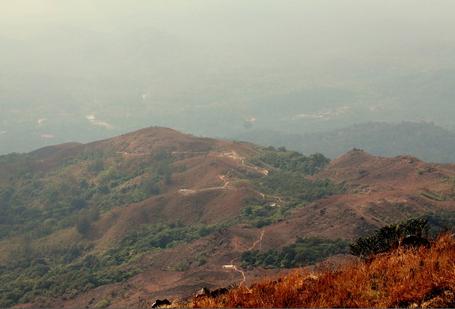 Kumara Parvatha, considered as one of the toughest treks in India, is a perfect mix of physical challenge and natural beauty of Pushpagiri Wildlife Sanctuary. The Trekking trail comprises of four phases :​
Base to Bhattara Mane : Trail is well trod one and continuous for a good seven kilometres uphill through thick jungle.
First view point : Place to stand in awe of the majesty of the mountain you are about to conquer and hit the trail to forest department to finish any formalities.
Mantapa : An ancient black stone structure amidst Shola grass where one will have first major respite.
Peak : The trek here involves unrelenting inclines leading to Shesha Parvatha, after which is another jungle called as leach valley.
This stretch traverses along the saddle formed between Kumara Parvatha and Shesha Parvatha. The final patch to scramble up steep section of boulders and rock faces until it levels out onto flat ground: The summit of Kumara Parvatha. With low clouds and absolute silence, the feel of the place is simply divine.