**Update : Kumaraparvatha trek is banned with affective from Feb 1st 2019 till further notification. Please call us before booking the gears. 
No longer take the ardous task of carrying and returning trekking tents, sleeping bags all the way from far away places!
Call us @  +91 9741247271 for clarifications.
Find our location in Kukke below: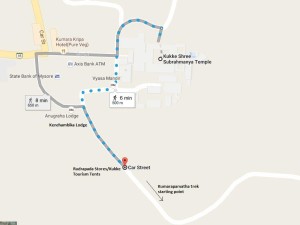 If you are looking for camping tents in Hyderabad, navigate to Camping Gears in Hyderabad
If you are looking for camping tents in Chennai, navigate to Camping Gears in Chennai
Camping, Trekking Tents /Gears on Rent in KUKKE SUBRAMANYA Location 
​
Four Person Camouflage Tents

Capacity – 4 people
Semi waterproof
Easily Carriable
Light Weight

Book Now

Quechua Arpenaz 3 Three Person Tents

Capacity – 3 people
Fully Waterproof
Easily Carriable

 
Book Now

Quechua Two Person Tents

Capacity – 2 people
Fully Waterproof
Easily Carriable

Book Now
Quechua Sleeping Bags
Book Now
Tent Lantern
 
Book Now
Reusable Kites(Gaalipata)

Reusable
easy to use and fold

 
Book Now